Jennifer Jacobs - State Farm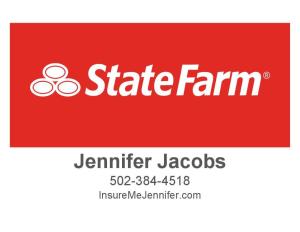 Jennifer Jacobs - State Farm
Categories
Insurance/Financial Services
About
I am a Kentucky, Indiana and Tennessee Licensed State Farm Insurance Agent, licensed to help you with your car insurance, home insurance, life insurance, and much more. The Jacobs Insurance Agency opened in Oldham County in 2017. I consider myself a proud small-business owner backed by the largest insurer in the United States. I moved to Kentucky with my husband to be closer to family and to start a family of our own.
I opened my agency in 2017 because I wanted to make a direct impact on the lives of my customers. At my agency, we do insurance differently. My team of licensed professionals and I take time to get to know you and understand your unique insurance needs. We focus on giving you the value and service you deserve, and we make you feel like family along the way. There aren't many companies, insurance or otherwise, where you get access to a dedicated person and team who you can call, text, or email and get a response from someone you actually know.
In fact, we've been recognized by the Prospect Area Chamber of Commerce and the Oldham Era as being the Insurance and Financial Services provider of the year since 2016, voted on by our local community as well as, Top Employer of the Year 2020 & 2021. I was also selected as Top 20 under 40 in Oldham County.
---Voted 3rd Year in a row "Oldham County's Favorite Insurance Agent"---
Jennifer's agency has also qualified for numerous awards with State Farm including: Ambassador Club, Chairman's Circle, Senior Vice President's Club, and many more.
Our dynamic office team is much like a family, we love working together and supporting local businesses. We look for ways to be involved in our LaGrange, Buckner, Crestwood, Prospect, Goshen, Eminence, and New Castle communities as much as possible. We do this through participating in civil organizations such as Rotary, Chamber of Commerce, Oldham County High School, The Arvin Education Center, Highpoint Charitable Services, the Hope Health Clinic and by supporting other local organizations in any way we can. If you're local to the area, there is no doubt you've seen our sponsorship signs at the local school or ball-field, or through our charming office location right here in Historic Downtown LaGrange.
We are an office who sees you as family not just another account. It is our Mission to be not just a "Good" Neighbor", but a GREAT neighbor to you and your family for generations to come. Call for a quote today and we can help provide your Car Insurance, Boat Insurance, Home Insurance, Renters Insurance, Life Insurance, Health Insurance, and more!